Game Uniform Kit - Premier Player/Plus Kit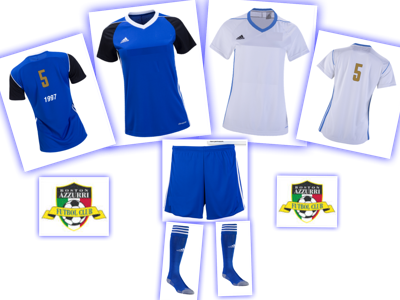 Game Uniform Kit - Premier Player/Plus Kit
Premier players require a full kit, which includes a goalie jersey, home game jersey, an away game jersey, shorts, game socks, training jersey, warm up jacket, warm up pants, backpack.
Goalkeeper protective gear available for - knee, elbow, shirts, shorts, pants and head.
Fan gear (i.e. sweatshirts, t-shirts, sack packs, auto decals) can be ordered separately.
*required wear for Premier Squad players and included in Premier uniform kit.
* Azzurri Sweatshirts or jacket is required for cold temperature trainings.