Azzurri Tryouts or Open House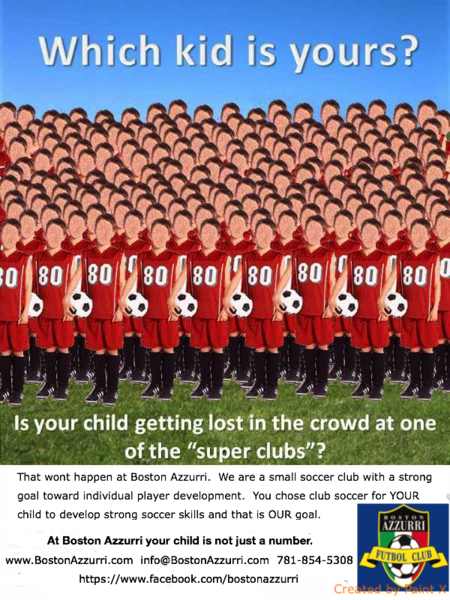 Azzurri Tryouts or Open House
Tryouts and Evaluations for 2017-2018 Northeast Soccer League Teams and programs (summer, fall, winter and spring)
Stay informed register here, email info@BostonAzzurri.com or call 781.854.6308
MANDATORY ATTENDANCE WAIVER click here
ORDER A TRAINING JERSEY click here
TRYOUT PAGE click here
Tryout players must be ages 8-19. Open House attendees must be appropriate age for the session.

PROCESS

Parents must register the player for a session here and complete a waiver click here
Parents will receive a detailed email regarding Tryouts, Evaluations or Open House Sessions.
Parents will receive a calendar invite
Players will be introduced to our curriculum and be evaluated by staff,
within 48 hours parents will receive an email inviting the players to join a team or program that we feel is the best

start

for the player. Players that are attentive and attend regularly move up quickly.
Players invited to a Premier or Elite-Select Team must secure the spot by making a deposit with in 24 hours, after which the spot may be offered to the next player.
Wednesday

- (all summer) at Stoneham Pomeworth Field on the intersection of Washington/Calthea Streets
(7/27)

Thursda

y from 4:30-6:30pm on Stoneham Commons on 340 Main/Church Street
Youth level - ages 6-12 from 6:00 - 8:00pm
High School level - ages 13-19 from 6:00 - 8:00pm