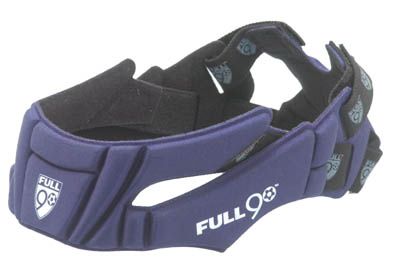 Headgear/Player Helmet
Premier Protective Soccer Head Guard
The head guard is built to defend against hard surface impacts, and has been proven to reduce the probability of a concussion by over 50%. It is lightweight, ventilated, and constructed of dual-density Forcebloc™ foam to protect the crucial impact zones at the forehead and temple. 
Full90 Performance Headguard™ protects a two-inch section around the head (which includes the forehead and temples), that receives 80% of concussive head impacts. Within this crucial zone our revolutionary ForceBloc™ foam reduces impact force by up to 50%, meaning fewer concussions overall and a reduction of severity of injury. In fact, a recent study found that college players NOT wearing a Full90 Performance Headguard™ were 2.65 times more likely to receive a concussion than players that did.
But superior protection is only half the story. Full90 Performance Headguard™ also utilizes the patented Tru-Play Design™, which combines advanced ergonomic engineering with applied biomechanics research to ensure that the headguard conforms naturally to the player's head for the ultimate fit. By ensuring an optimal fit the headguards never alter a player's style of play or the "ball feel". 
Complies with FIFA, US Soccer and NFHS
Lightweight & ventilated with Coolmax moisture management
True-fit adjustable system
Low profile dual density foam
Measure around widest part of the head