AZZURRI TEAMS - Futbolito Games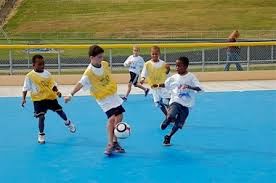 AZZURRI TEAMS - Futbolito Games
AZZURRI ACADEMY - Futbolito Games

Summer 2018
Wednesday from 5:30-7:00pm
 at Stoneham, Melrose and Saugus

Boys, Girls, ages 6-19
5 weeks from 6/19-8/01, off 7/03, 7/04
click here to learn about the benefits of Futsal and Futbolito

Futsal/Futbolito games will be either 5v5 on hard courts or 4v4 Futbolito on small grass field, both with small goals.  At the end of the season players will receive a badge for each technique or move they master.
Your team may be comprised of other players registered for the program, unless you have registered to play with a certain group of players to play Futsal/Futbolito.   
or

Your town/high school team may join - coaches are welcome to participate, with their group of players to assist their group, while learning technical skills development and how to coach Futsal/Futbolito. This is a great solution for developing players and parent coaches.  It's affordable, efficient and convenient.
 Includes (8) 50-60 minute games. 
Complete Club Waiver click here
Email a color head shot and birth certificate
Schedule click here 
Locations click here
Uniform –  Training jersey, shorts shin guard and soccer socks. Always bring sneakers/court shoes & outdoor cleats, ball and water.
Order a training jersey click here
Order a ball click here