AZTEC ACADEMY - Elite Girls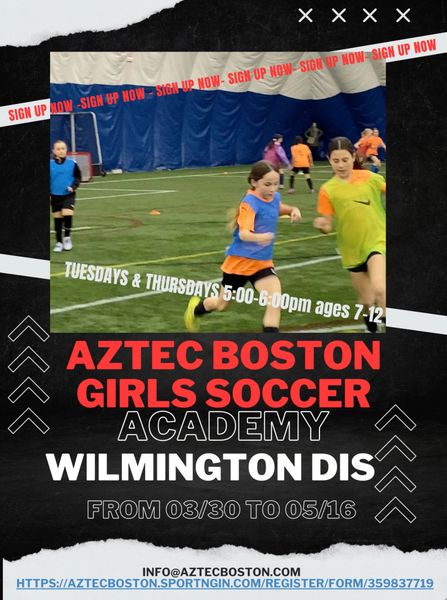 AZTEC ACADEMY - Elite Girls
AZTEC GIRLS ACADEMY - Foot Skills Soccer and Futsal
Bedford Edge and Wilmington DIS
adding Saturdays at Woburn, Burlington 
Spring 2023 March 30-May 25 for 8 weeks 5:00-6:00pm
Field players will spend 45-60 minutes honing their technical and tactical skills, using repetitive touches, moves, and commands.
Technical sessions are followed by a 0-15 minute 5v5 futsal style games either on hard courts, turf or grass.
Ages 6-12,  (email info@BostonAzzurri.com for younger players) 
Spring 2023 schedule for any 8 weeks, 3/30-5/25 
Tuesdays at DIS Wilmington
Thursdays at the Edge in Bedford
MORE DETAILS
Uniform/Practice – Training jersey, shin guard, soccer socks, shorts/pants, and soccer socks.
always bring indoor/court shoes AND outdoor cleats, shin guards, socks & water.
Order training jersey click here

Store click here 
Locations click here