CAMPS - PINEBANKS - APRIL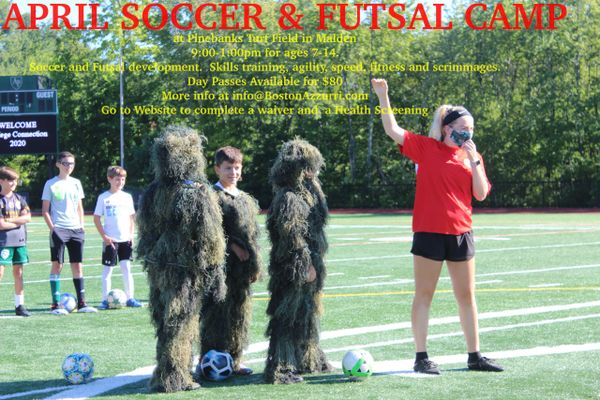 CAMPS - PINEBANKS - APRIL
Azzurri Camp - Aztec Azurri Soccer & Futsal Fall Prep Camp
Join us at beautiful Pinebanks facility with state of the art turf fields.  This camp is geared for players looking to hone their foot skills, learn 1v1 moves, develop faster feet with agility and have fun doing it.  We will cover the technical, tactical, mental and physical development of soccer players, using soccer and futsal.  All levels and experience are welcome.
Athletes should come prepared with cleats, shin guards, appropriate athletic wear, sandals towel and plenty of water!
April 19- April 23 from 9:00 - 1:00 pm at Pinebanks in Melrose and Malden for ages 7-14

OTHER DATES
June 21 through June 25 from 9:00 - 1:00 pm in Reading
July 12-16 in Melrose from 9:00 - 1:00 pm in Melrose
August 2- August 6 from 9:00-1:00pm in Reading
Lunch Available
Additional specialized training available from 1:00-3:00pm (goalkeeping, 1v1 moves or anything players want to develop) 

Mandatory Program Waiver and Covid Guidelines Complete a Waiver click here
also available August Soccer Camp at Austin Prep 8/2-8/6 from north 9:00-3:00pm  click here
Register for Camp click here Complete a Waiver click here
Uniform – reversible training pinnie, shorts, soccer socks, shin guards
Bring sneakers & outdoor cleats, sandals, sunscreen, towel and water.
Bring a ball each day.
Order an extra training jersey or reversible pinnie click here
Order a ball click here
Schedule click here (please refer to this page before attending any sessions)
Locations click here