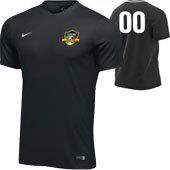 Jersey - Training
"Training or Warm Up" jersey includes a large 5 color club logo on front.  
This jersey is worn at all practices and program games.
*Grey and black are currently the standard training jersey colors.
*required wear for players in all Azzurri programs and is included in Premier, Select and Academy uniform  
  kits.