Game Uniform Kit - Select Player/Half Kit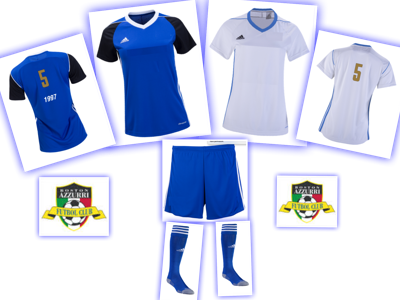 Game Uniform Kit - Select Player/Half Kit
Coming Soon - order directly from Soccer.com click here
Azzurri Teams use Joma kits and Azzurri-Rush teams use Adidas kits
Select kits includes a home jersey, an away jersey, shorts, socks and a training jersey.
The new Azzurri-Rush Adidas kit for 2017-2018 is Adidas Tastigo 17. They will be customized with the Azzurri logo on left sleeve. Rush logo on chest and Soccer.com logo on front.
The Azzurri Joma kit is the Champion IV kit w/Azzurri logo on left chest, left leg and (soon) Boston Azzurri across back.
Warm up jacket, warm up pants, backpack and Fan gear (sweatshirts, t-shirts, sack packs, auto decals) can be ordered separately.
*An Azzurri sweatshirt or jacket is the required outer wear for cold temperature trainings.