AZZURRI ACADEMY- Keeper Skill Warz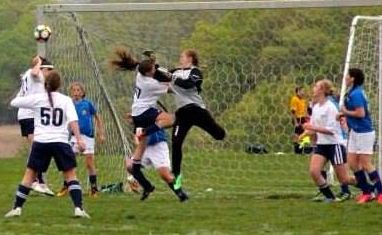 AZZURRI ACADEMY- Keeper Skill Warz
TRAINING PROGRAM - Goalkeepers
 KEEPER SKILL WARZ
Saturday's from 4:00-5: 00 pm 
in Melrose
Boys, Girls, ages 7-17
Spring 2019 session 4/27-6/15 (session 2 - now thru 6/15)

6 weeks ($150.99) - register and start anytime.  We offer rolling admissions and weekly year-round sessions. 
Goalkeepers will spend 45-60 minutes honing their technical and tactical skills, using repetitive touches, moves, and commands.
Alternatively, field players (Strikers, midfielders, and defenders) will work on technical foot skills and 1v1 moves for 45-60 minutes.
beating players offensively and defending players defensively, with 1v1 and 2v2 skill wars.
Uniform/Practice – Azzurri Training jersey, shin guard, soccer socks, shorts/pants, and soccer socks.
always bring indoor/court shoes AND outdoor cleats, shin guards, socks, protective gear (gloves, GK pants, knee pads) & water.

padded keeper jersey, padded keeper pants, elbow pads, knee pads, head gear, are recommended.  See website Store to order.
Order training jersey click here
Register for KeeperSkillZ click here  Complete a Waiver click here
Goalkeeper Store click here 
Schedule click here (please refer to this page before attending any sessions)
Locations click here