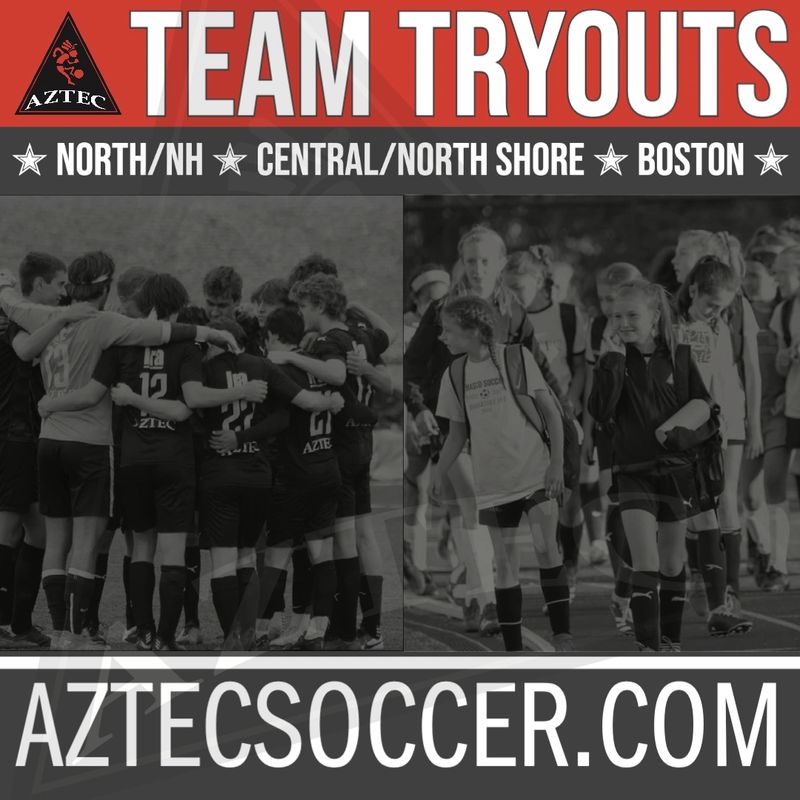 For Aztec Boston Girls tryout questions please contact Jennifer McLellan at info@aztecboston.com 
1.Perspective Players Tryout Form click here to register for a team tryout
2. Facility Directions click here
3. Frequently Asked Questions click here
---
Tryout Dates
Aztec Soccer Club will be hosting Player ID Clinics across its regions this spring. This is an opportunity for prospective players to be evaluated by our professional coaching staff.
What is an Aztec Player ID experience like?
Interested players will be asked to fill out a prospective player online form (click here or the link above). Upon receipt, a member of our coaching staff will reach out to you directly and provide you with a schedule of available ID clinic dates based on your age and geographical location.
Players may be invited to one or multiple training sessions. Following the completion of the training, our coaches will provide an evaluation of the player and outline next steps.
Unlike traditional tryout sessions, the Aztec Player ID experience is designed to create a comfortable and optimal environment for players. You will train with current players and you will be welcomed into our community on tho e day as if you were one of our teammate . We want you to be placed in a position to show your best stuff.
We will continue to conduct tryout for open roster spots though the fall and winter
Any questions can be directed to info@aztecboston.com.
---
CLICK HERE TO COMPLETE THE PROSPECTIVE PLAYER FORM REQUIRED FOR SPRING PLAYER ID CLINICS
---
Why We Are Aztec
For more than two decades, Aztec Soccer Club has been a mainstay in the soccer club industry in towns and communities north of Boston.
From day one, Aztec Soccer has focused on training individual players to be the best soccer players, people, and leaders they can be. Our experienced and dedicated coaching staff shares a collective focus on instilling a passion for the game in even our youngest players and fostering long-term development and a lifelong love for the game. Off the field, we focus on teaching core values that impact the overall character of each individual player.
Commitment ✭ Passion ✭ Respect ✭ Community ✭ Positivity ✭ Resilience
Aztec currently has one of the largest full-time staffs in the region and works with 39 boys teams and 37 girls teams - including two that advanced to a national championship in 2021 and three that advanced to the finals of the New England Regional Championships - and a U23 program that draws more than 100 players every summer.
Click here to learn more about where we came from... where we are today ... and where we are going! #WeAreAztec
AZTEC BOSTON
Offers competitive team and training opportunities for players in the Merrimack Valley and Middlesex County regions.
Girls Teams (2014 - 2004 Birth Years)
Boys Teams (2013 - 2004 Birth Years)