Tryout Details ....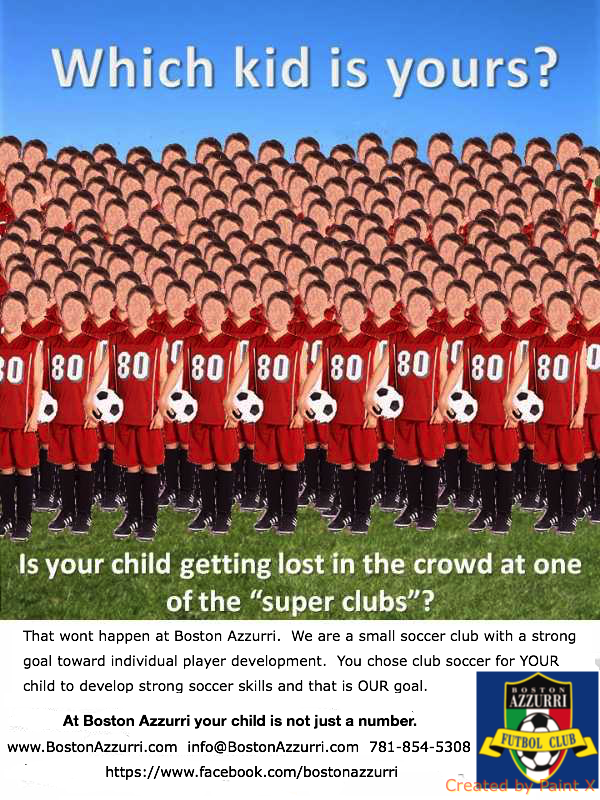 Tryout Process Details 2018
Thank you for considering F.C. Boston Azzurri Premier Soccer & Futsal.
We will be holding Tryouts in Melrose, Stoneham and Bedford, through April.
Tryouts will start June 5th and commence 6/28 for 2018-2019 teams, however we will evaluate players for open spots or new teams, throughout the year.
Stoneham, Melrose, Saugus, Lynnfield, Reading and Bedford
Northeast Soccer League (NSL), NHFutsal, Rush Futsal
TRYOUT DATES/
DAYS,
TIMES and AGES
and LOCATION
Winter Tryout (see chart below) dates
in Melrose at Melrose , Reading and Bedford
click here to complete

Waiver

prior to tryout day or bring a printed copy.
Please arrive 20 minutes early t

o check in and get tryout #. Player should be d

ressed like a soccer player; shorts, t-shirt, soccer socks, shinguards cleats. Bring water, a ball and sneakers/indoor soccer shoes.
Players will receive an email within 48 hours.
Boston Azzurri Premier Soccer & Futsal's mission statement is to develop
the
technical soccer player, the 1v1 artist and avoid injuries. We develop confidence through the quick development of advanced foot skills, agility, balance and technical skills. Players learn to dribble with speed, in pressure, score and pass effectively, hold on to the ball, create and deny space Players learn to read the game, communicate and lead their teammates. Boston Azzurri has flexible training schedules, with up to three training options a week Boston Azzurri builds strong possession oriented teams around our skilled players by holding one game day oriented training day each Saturday evening.
| | | | | | | | |
| --- | --- | --- | --- | --- | --- | --- | --- |
| Age Group | Monday | Tuesday | Saturday | Sunday | Group | Dates | REGISTER |
| 2012 | 5:00-6:15pm | 7:15-8:30pm | | 1:00-2:15pm | U06 | thru March 2018 | Register here |
| 2011 | 5:00-6:15pm | 7:15-8:30pm | | 1:00-2:15pm | U07 | " | Register here |
| 2010 | 5:00-6:15pm | 7:15-8:30pm | | 1:00-2:15pm | U08 | " | Register here |
| 2009 | 5:00-6:15pm | 7:15-8:30pm | | 1:00-2:15pm | U09 | | |
| 2008 | 5:00-6:15pm | 7:15-8:30pm | | 1:00-2:15pm | U10 | " | Register here |
| 2007 | 5:00-6:15pm | 7:15-8:30pm | EMAIL | 1:00-2:15pm | U11 | " | Register here |
| 2006 | 5:00-6:15pm | 7:15-8:30pm | EMAIL | 1:00-2:15pm | U12 | " | Register here |
| 2005 | 5:00-6:15pm | 7:15-8:30pm | EMAIL | 1:00-2:15pm | U13 | " | Register here |
| 2004 | | 8:00-9:15pm | EMAIL | 2:15-3:30pm | U14 | " | Register here |
| 2003 | | 8:00-9:15pm | EMAIL | 2:15-3:30pm | U15 | " | Register here |
| 2002 | | 8:00-9:15pm | EMAIL | 2:15-3:30pm | U16 | " | Register here |
| 2001 | | 8:00-9:15pm | EMAIL | 2:15-3:30pm | U17 | " | Register here |
| 2000 | | 8:00-9:15pm | EMAIL | 2:15-3:30pm | U18 | " | Register here |
| 1999 | | 8:00-9:15pm | EMAIL | 2:15-3:30pm | U19 | " | Register here |
| | | | | | | | |
| DAY | LOCATION | LOCATION | | | | | |
| Monday | Edge -Hartwell St | Bedford | | | | | |
| Tuesday | Middle School gym | Melrose | | | | | |
| Sunday | Roosevelt School | Melrose | | | | | |
| email | 781.854.6308 | for appt. | | | | | |
| | | | | | | | e |