SCHEDULES
 "risk free" registration fees
all new CDC approved safety guidelines and protocols are in place (see return to play tab for guidelines).
 Boston Azzurri has the ability to transition and provide all types of trainings on field and virtually at a moments notice.
FALL PROGRAMS
We have programs for everyone virtual, 1on1 private, group trainings, pick up games, league game.  Create any combination that works for you.  Email info@BostonAzzurri.com for more information.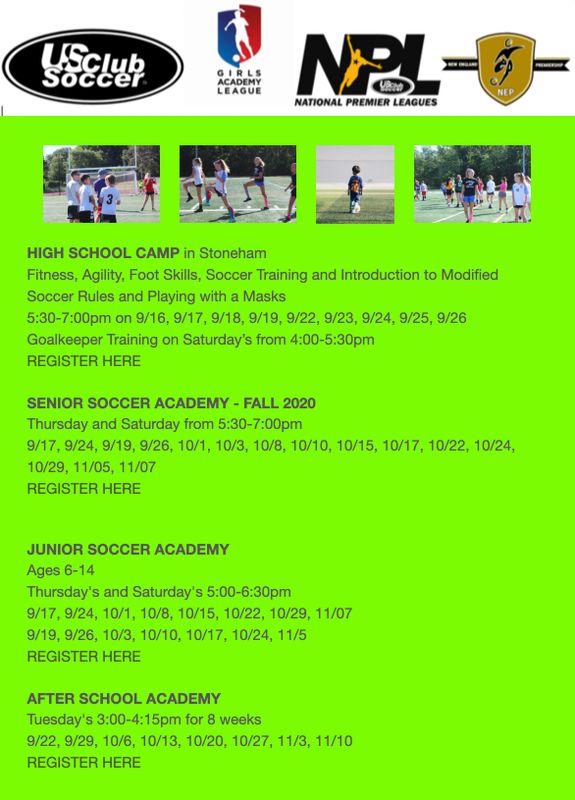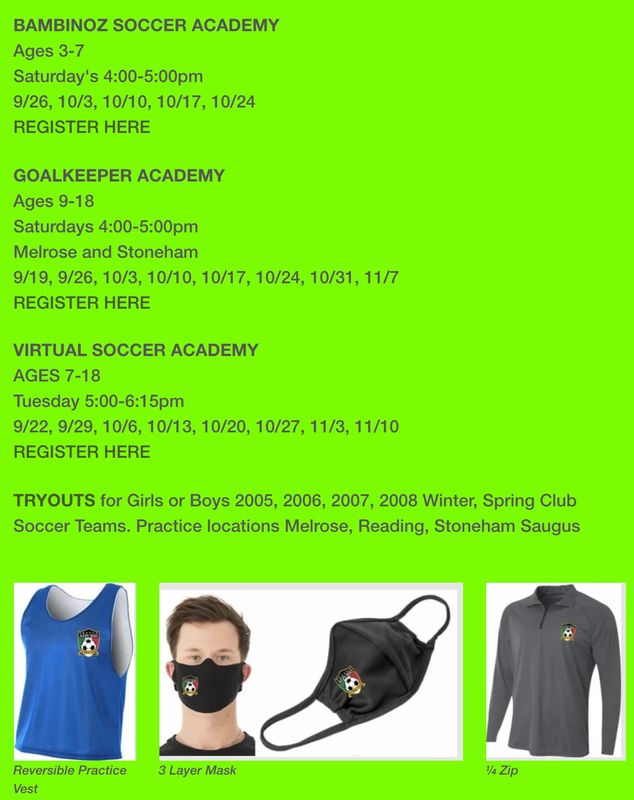 Monday - 
Tuesday in Melrose - After School Academy, virtual training, also see combo Academy
Wednesday - 
Thursday in Stoneham - Team Training, Junior Academy, Senior Academy, Futsal/Futbolito games
Friday - 
Saturday in Melrose -  Bambinoz Academy, Team Training, Junior Academy, Senior Academy, Keeper Academy,
Sunday - Team NEP Games (home games in Melrose)
also see 1on1 private training, Pre season clinics
TRYOUT DATES for Soccer & Futsal Teams - any Thursday or Saturday in the Fall

see Tryout tab on home page
in Melrose, Saugus, Reading, Peabody, Woburn, Stoneham
Premier NEP Club Soccer Teams, ages 8-13 and potentially 14-18 click. (players train all summer)
*Jr Academy, ages 6-13 click
*Futsal 5v5 and Futbolito 3v3 Games
*KeeperSkillZ Academy, ages 9-19 on field and virtual
*Virtual SoccerSkillz, KeeperSkillz, Speed, Agility, Quickness and Fitness Click here
WINTER PROGRAMS

 
Futsal and Soccer - in gym and virtually
starting October*, with options to start in November, December and January. Every Tuesday, Wednesday, Saturday and Sunday evening on field.  Virtual options most evenings and some mornings
in Melrose, Malden, Saugus, Reading and Danvers
Premier Futsal Teams, ages 7-19 click
Jr Academy, ages 6-12 click
Sr Academy, ages 13-19
Futsal 5v5 and Futbolito 3v3 Games
Goalkeeper Academy, ages 9-19 click